Whimsy, secrets and surprises at THE BEEKMAN
10 February 2017
Source:HOTELS
From 19th-century floor lamps to mid-century chairs, the tensions in The Bar Room between different eras and styles are overcome with a consistently rich color palette in jewel tones. Among the highlights: the crystal chandeliers.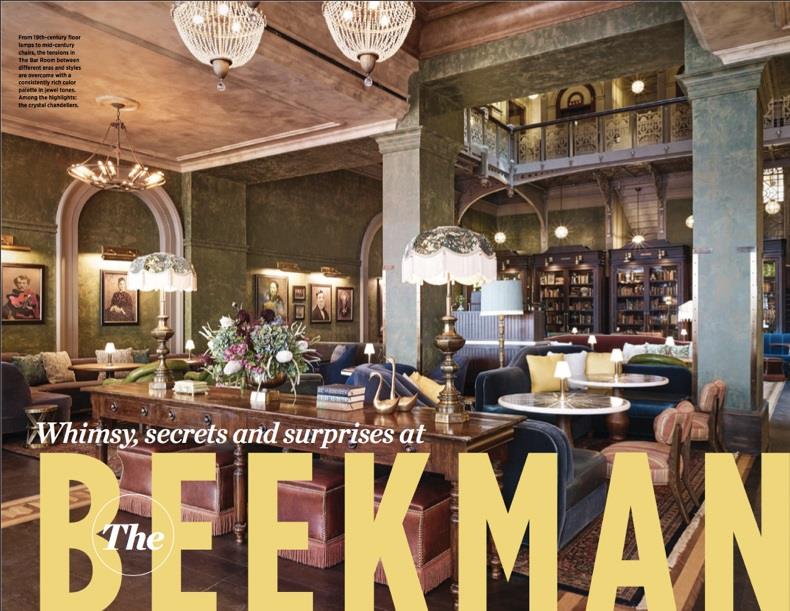 ————• DESIGN •————
Two Roads Hospitality's luxury lifestyle hotel in historic Manhattan space harnesses the spirit of New York.  
                                                                                                                         Contributed by RAINI HAMDI
What does it take to see an opportunity while others only see "that abandoned building"? To turn a long-forgotten space into a place people want to go? To reimagine a historic address that never was about hospitality into an authentic heritage hotel that also feels relatable for today?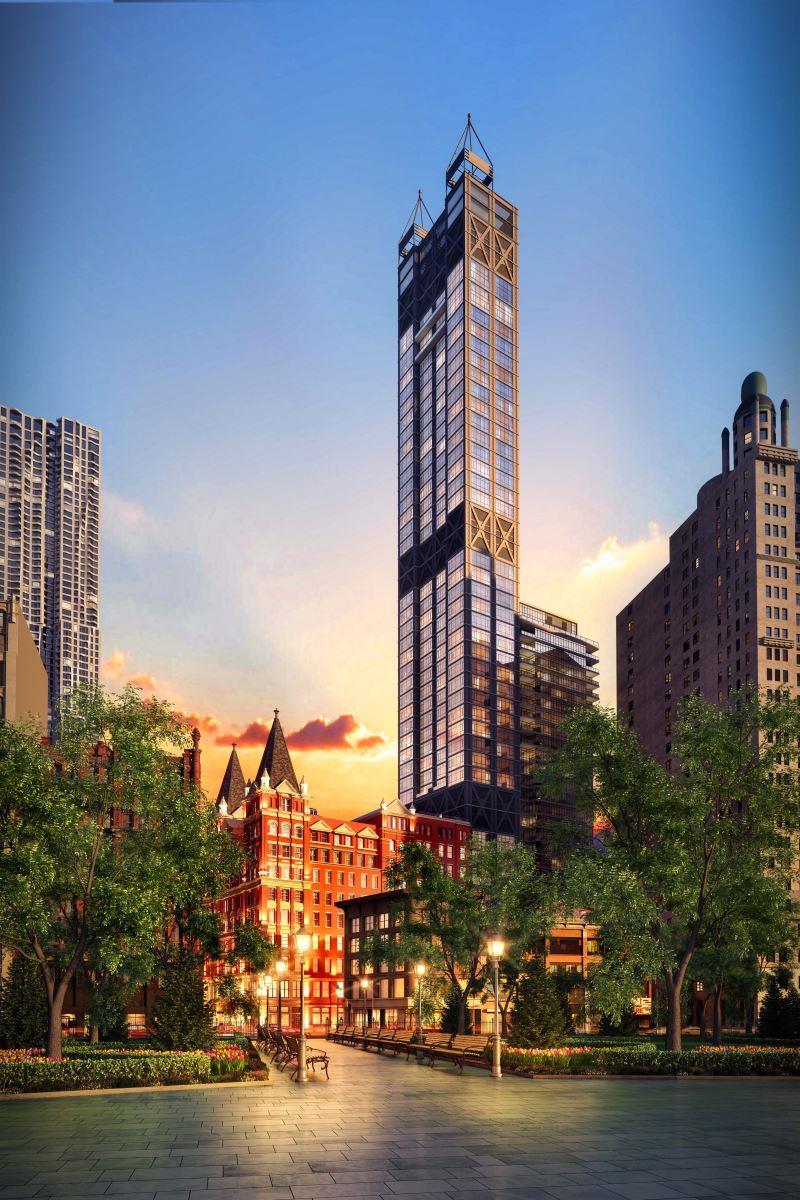 Within its first 30 days of operation from August 23, The Beekman, a Thompson Hotel in downtown Manhattan, earned the No. 1 rating on TripAdvisor. The local community and companies in the neighborhood greeted it like the return of the belle of the town. Media headlines included  "This is New York's next iconic hotel" to the less fawning "An early skyscraper becomes a hotel with a view."
At nine stories, 5 Beekman Street was one of the city's first skyscrapers in 1883, its brick-and-terracotta facade and central atrium among its distinguishing factors. Named Temple Court after the Temple legal district in London, it was essentially an office space and achieved New York City landmark status in 1998. Since 2000, however, it had been disused. In 2011, developer Allen Gross of GFI Capital Resources Group bought it for around US$64 million, along with a parcel next door for US$22 million, and spent US$350 million on the renovation.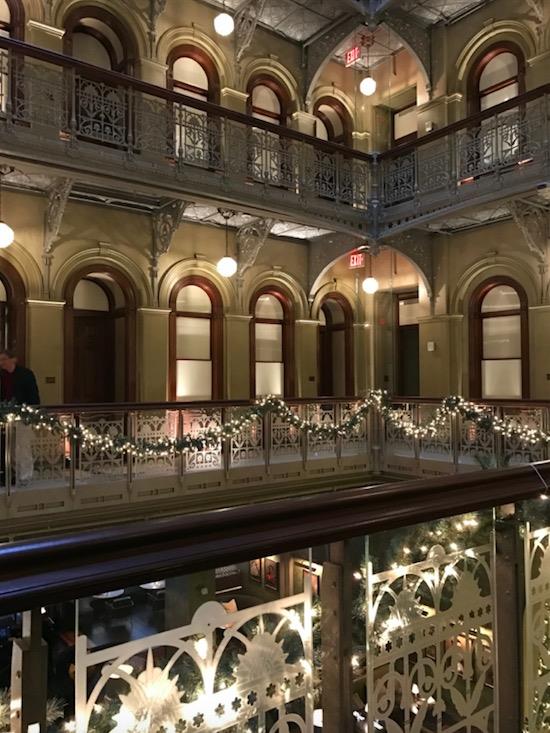 For 287 rooms, location in downtown New York City and an absence of suitors for over 10 years, to some people that's huge. Gross admits it did worry him that no one saw anything in it but he saw the plot after spending time and "practically talking to the building."
"Looking at different uses, (a hotel) made the most sense, but it all depended on getting the lot next door. If we didn't, it might not have worked economically as a hotel. The cost per room would have been too great and there wouldn't be enough amenity space," Gross says.
"The sale of condos (in the condo tower next door, which has 68 units on its upper floors and 75 guestrooms on lower floors) reduces our cost of hotel rooms and allows us to do something exciting, which is restoring a one-of-a-kind building that doesn't exist in all of New York City," Gross says. "Something like that is priceless." He expects to have the condos sold within the year and for all guestrooms, all F&B and meeting rooms to be in service by June 2017.   
————• 'NECK PAIN' •————
Right now, The Beekman is giving downtown a neck pain: people come just to look up to the nine-story atrium leading to a pyramid-shaped skylight bathing them in dazzling light. There are also exquisite details, such as the cornicing, carved balustrades and ironwork. There's the whimsical kilim-draped reception desk, the rugs from the same period the building was constructed.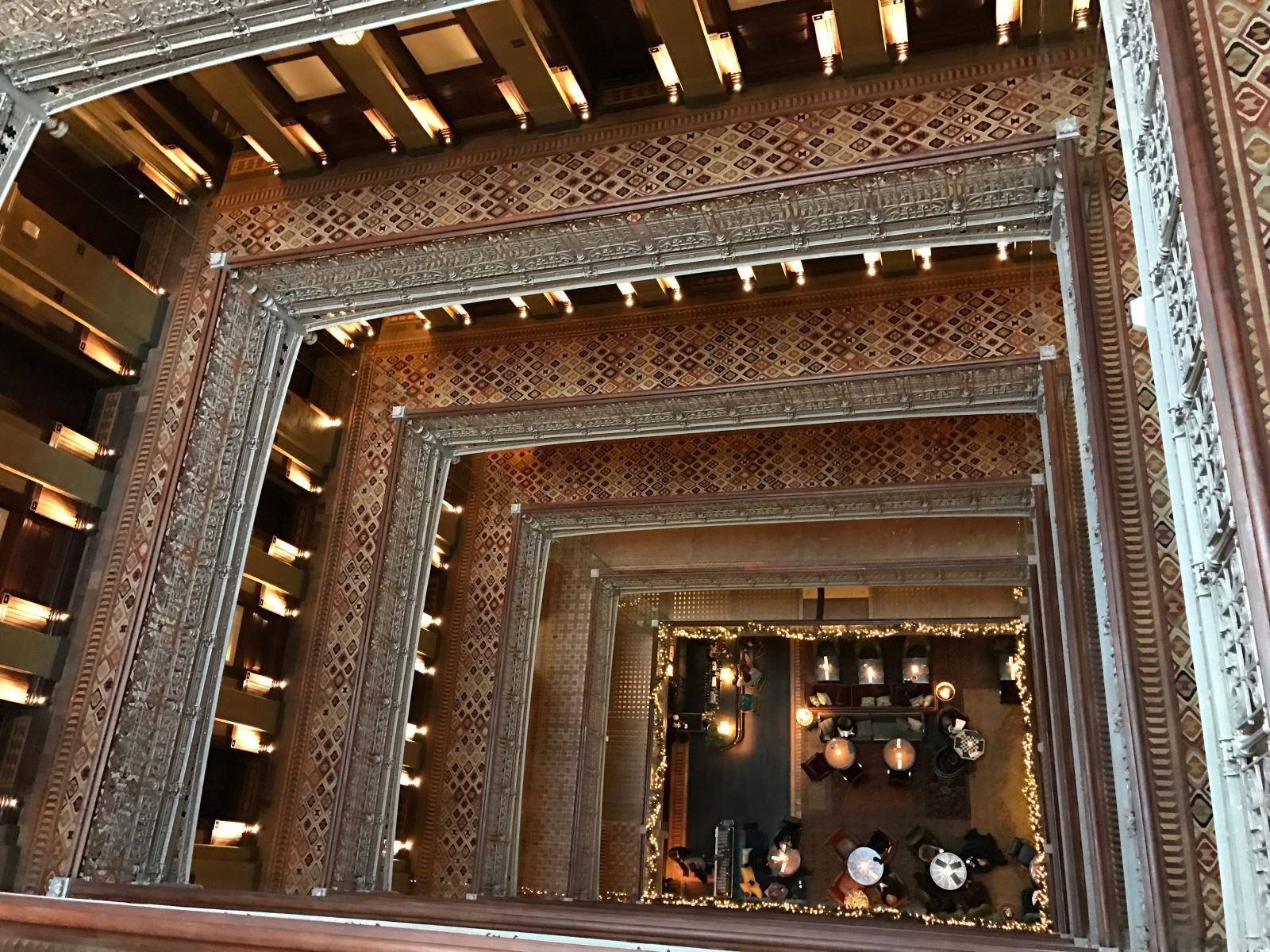 △ The nine-story atrium has been restored with Victorian wrought-iron railings and balustrades, ornamented with flowers, dragons and sunburst, while the pyramidal skylight bathes the space in light.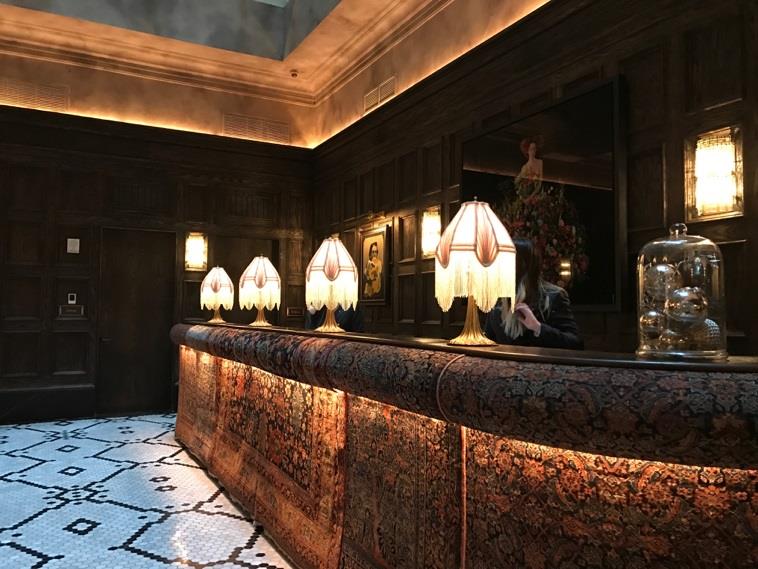 △ On entering the lobby, guests walk across the black and white marble mosaic floor and head to the reception desk, which is upholstered in a patchwork of colorful rugs. Around them they will see a rich paneled room featuring whitewashed timber chandeliers decorated with gold leafing.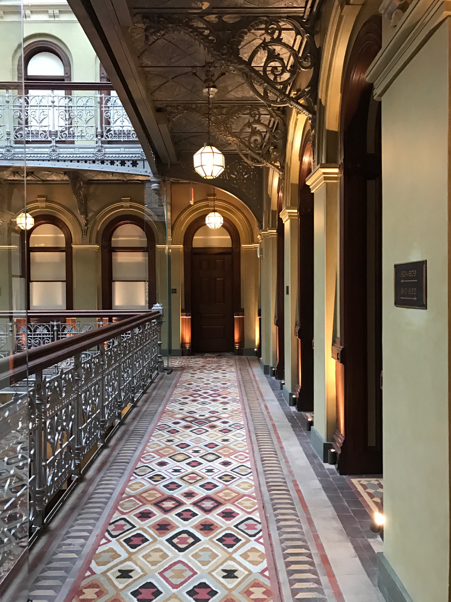 △ Stepping into the corridors, guests see ornate wrought-iron detailing around the atrium, original encaustic tiles in terra-cotta reds, golds and chocolate browns, and arched doorways with under- lit room numbers.
There are surprises, such as the in-room minibar crafted from an antique table with a thick-patterned cloth draped over it. There are modern conveniences, right down to all decorative lighting being dimmable. There are signature restaurants by James Beard Award winners Tom Colicchio and Keith McNally.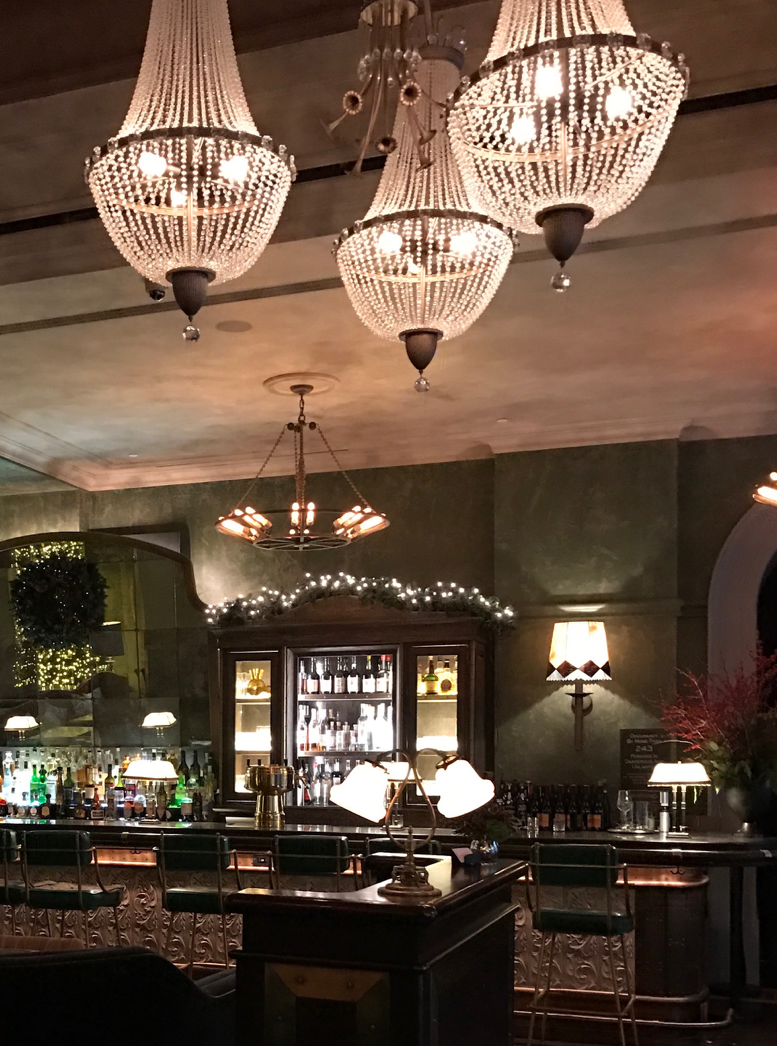 △ Guests can sit on a wide selection of furniture in The Bar Room, chosen with eclecticism in mind to give the impression of an informed connoisseur who has acquired the pieces over the years.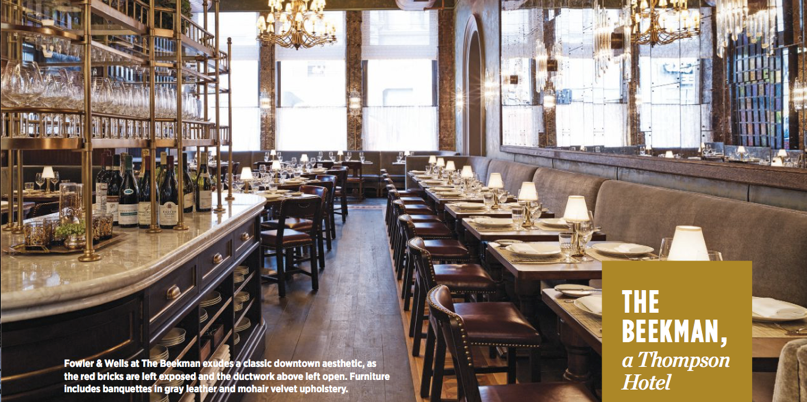 △ Fowler & Wells at The Beekman exudes a classic downtown aesthetic, as the red bricks are left exposed and the ductwork above left open. Furniture includes banquettes in gray leather and mohair velvet upholstery.
And there are secrets. The balconies still have the swing door that allowed safes to be pulleyed up to offices; there's also a fantastic cellar, complete with vaulted ceiling and exposed brick walls.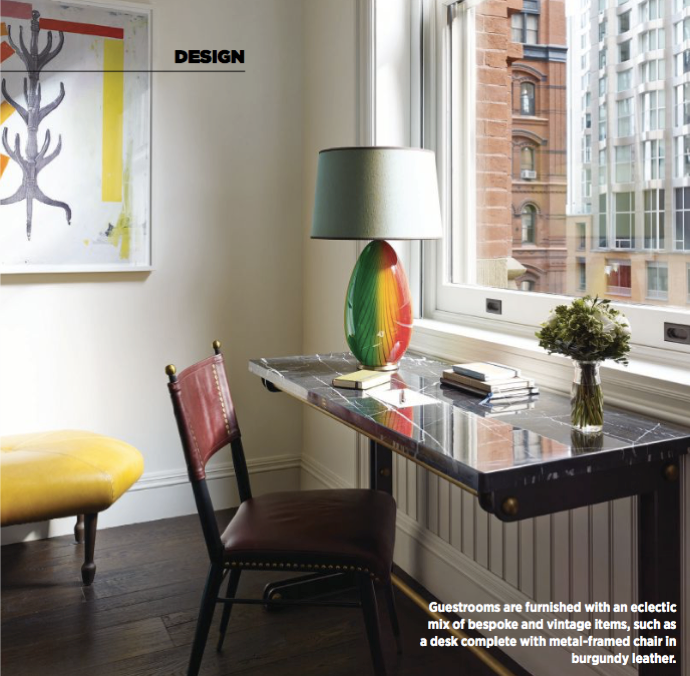 How is it all coherent?  It starts with the positioning. The Beekman is not designed as a grand old dame hotel, despite its architecture. Rather, it is  "a truly singular luxury lifestyle hotel" with history, architecture, eclectic interior design, contemporary amenities and modern service style to appeal to a much wider audience, says General Manager Robert Andrews.
The hotel is eyeing an annual ADR of US$500-US$600, with a geographical market mix comprising North America, followed by Canada, major European countries and South America.
Interior architect Martin Brudnizki says it wasn't an issue to design the hotel where there was no hospitality history to use as a basis. "Even though this was not a hotel originally, our redesign process felt organic. The unique makeup of the building enabled us to design a space which would work brilliantly for a hotel, the nine-story atrium providing a special way to design an open and inclusive network from which bedrooms would lead from," he says.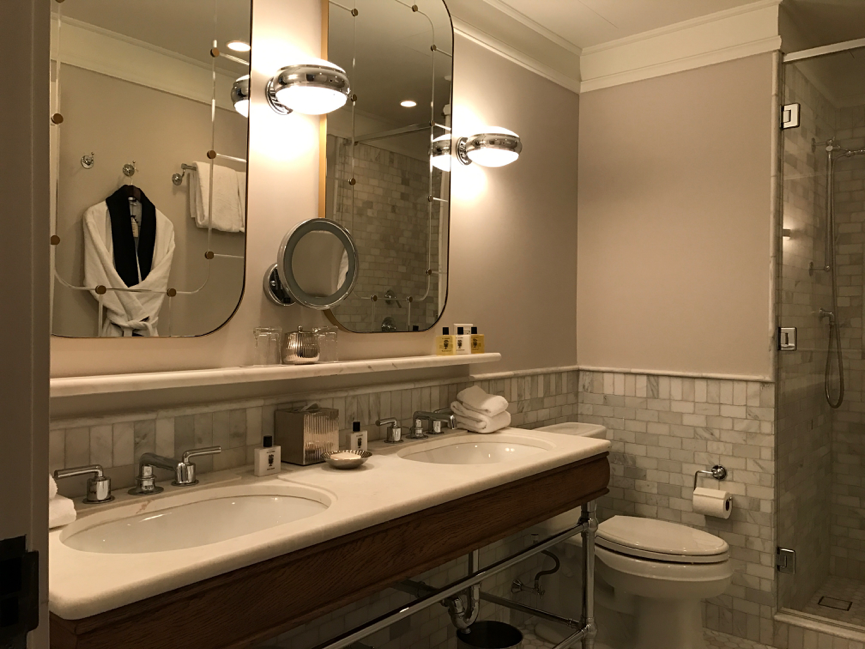 △ Bathrooms are an off-white marble and feature a hexagonal floor pattern and vanity units, also in an off-white marble, with a timber apron and polished metal washstand underneath, giving it a vintage feel.
"The history and heritage of a building and its location is so important to me," Brudnizki adds. "I believe that through looking to the past we are able to create something which works for the future. So for The Beekman it was all about harnessing the spirit of old New York and making it workable for the modern day. The result is a bit of a blur between the Hotel Chelsea, the poetic landscape of Edgar Allen Poe whose words resonate so greatly in the city, and a traveler's home brimming with objects found on his journeys."
_________________________________________________________________________________________________
THE BEEKMAN, a Thompson Hotel

OPERATOR: Two Roads Hospitality, Denver

ROOMS: 287, including 45 suites and two penthouses within the iconic "turrets"

F&B: Tom Colicchio and Keith McNally debut Fowler & Wells; Colicchio's Crafted Hospitality operates all F&B, including The Bar Room on the ground floor

ARCHITECT: Gerner Kronick + Valcarcel Architects PC

INTERIOR DESIGN: Martin Brudnizki Design Studio

DEVELOPMENT TEAM: Co-development of GB Lodging LLC and GFI Development Co.